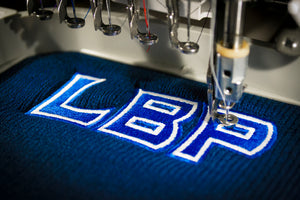 Broderie | Embroidery
Pour tous vos besoins personnels, corporatifs ou sportifs | For all your personal, corporate or sports needs
Impression | Printing
Bannières, Collants, Murales, Toiles, Affiches | Banners, Stickers, Murals, Canvas, Posters
Exposition & Affichage | Exhibit & Display
Affichages portables, modulaires et extérieurs | Portable, modular & outdoor displays
Besoin de broderie, vêtements imprimés, bannières ou d'articles promotionnels? Consultez nos catalogues ci-dessous pour voir nos articles et vêtements personnalisables.
Contactez-nous directement pour les commandes personnalisées, d'équipe, de grandes quantités pour votre entreprise ou un événement.
▲▼▲▼▲▼▲▼▲▼▲▼▲▼▲▼▲▼▲▼▲▼▲▼▲▼
Need embroidery, printed apparel, banners or promotional items? Consult our catalogs below to view our customizable items and apparel.
Contact us directly for custom orders, team orders, large quantities for your business or event.
Produits d'Exposition et d'Affichage | Exhibit & Display Products
Nous offrons une des plus larges gammes de produits d'affichage portables, des structures de tissu, des solutions d'exposition modulaires, accessoires d'affichage et graphiques. Supports pour bannières, enseignes portables, affichages contextuels, présentoirs en tissu tendu, supports de documentation, éclairage, vitrines d'exposition, etc. 
Tout à un seul endroit pour tous les types de solutions d'exposition et d'affichage.

▲▼▲▼▲▼▲▼▲▼▲▼▲▼▲▼▲▼▲▼▲▼▲▼▲▼


We offers one of the widest ranges of portable display products, fabric structures, modular exhibit solutions, display accessories and related graphics. From banner stands, portable signs, popup displays, tension fabric displays to literature racks, lighting, display cases, table throws and more.
Media INK is a one-stop-shop for all types of exhibit and display solutions.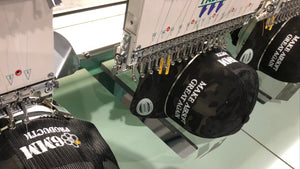 Casquettes Brodées | Embroidered Caps
Notre sélection de casquettes est disponible dans une variété de styles et de couleurs, et constitue le produit promotionnel idéal pour mettre en valeur votre marque ou votre équipe. Contactez-nous pour faire broder le logo de votre équipe ou de votre entreprise sur les casquettes.
▲▼▲▼▲▼▲▼▲▼▲▼▲▼▲▼▲▼▲▼▲▼▲▼▲▼
Our selection of headwear comes in a variety of different styles and colors, and are the perfect promotional product to showcase your brand or team. Contact us to have your team or business logo embroidered on caps.
Vêtements Personnalisés | Custom Apparel
Nous pouvons personnaliser les t-shirts, kangourous,  polos, chemises et manteaux en utilisant soit la broderie, sérigraphie, transfert de chaleur ou sublimation selon votre vision.
▲▼▲▼▲▼▲▼▲▼▲▼▲▼▲▼▲▼▲▼▲▼▲▼▲▼
We can customize t-shirts, hoodies, polos, shirts and jackets using either embroidery, screen printing, heat transfer or sublimation according to your vision.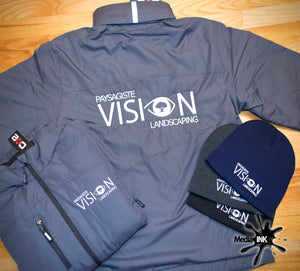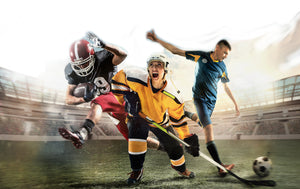 Équipes Sportifs | Sports Teams
Nous avons d'excellents produits pour les besoins de votre équipe, qu'il s'agisse de bouteilles, de rondelles, de chandails de pratique ou de match, vêtements d'équipe, de décalques de casque, nous sommes là pour vous!
▲▼▲▼▲▼▲▼▲▼▲▼▲▼▲▼▲▼▲▼▲▼▲▼▲▼
We have great products for your team needs, from bottles, pucks, practice or game jerseys, team apparel, helmet decals, we've got you covered in every way!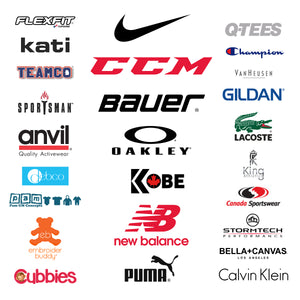 Des marques vous connaissez | Brands you know
Chez Média INK, nous offrons une grande variété de vos marques préférées que vous savez aussi bien que la possibilité d'acheter de nouveaux produits.

▲▼▲▼▲▼▲▼▲▼▲▼▲▼▲▼▲▼▲▼▲▼▲▼▲▼

At Media INK, we offer a wide variety of your favorite brands that you know as well as a chance to purchase new products.
Revues | Reviews
Service impeccable du début à la fin. Accepte les petites commandes autant que les grosses avec les même critères de professionnalisme.

Simon Dompierre, PEKAN Outdoor
Very pleased with every step of the process. Communication, quick turnaround, excellent product! Will do business again

Philippe Léger, Paysagiste Vision Landscaping
Le service est rapide, professionnel et ils offrent une multitude de choix pour tous les budgets ! Vous êtes assuré de trouver ce que vous cherchez avec Média Ink et ils sont en mesure de réaliser vos projets créatifs avec brio.

Vincent Morreale, La Table Ronde Airsoft
Fast service. Great price. Very friendly and approachable. Good quality. Thank you very much.
Will recommmend and do business again.

Vadim Chernyak
Rapidité, Qualité, prix très concurrentiel, diversité de produits personnalisable...
Si je les recommande ?? Quelles questions, BIEN SUR QUE OUI !!! 😉
On vous rappèlera pour d'autres commandes, c'est sur !

Claude Ray, Blackwater Canada
Marques de commerce et droits d'auteur: POUR UTILISER UN DESIGN, VOUS DEVEZ TENIR LES TITRES DE LICENCE ET DE DROIT D'AUTEUR NÉCESSAIRES. En usine, il est supposé que toutes les illustrations soumises sont utilisées en pleine conformité avec toutes les lois applicables concernant son utilisation. Le client accepte d'assumer toute responsabilité résultant de réclamations contre nous pour des marques de service, des violations de marques de commerce, des droits d'auteur, des brevets et des droits personnels. Les clients assument l'entière responsabilité d'obtenir la permission de reproduire les logos, les marques de commerce, les brevets et les droits d'auteur. En acceptant d'imprimer toutes les illustrations soumises, Media INK ne sera en aucun cas tenu responsable.
▲▼▲▼▲▼▲▼▲▼▲▼▲▼▲▼▲▼▲▼▲▼▲▼▲▼
Trademarks & Copyrights: IN ORDER TO USE A DESIGN, YOU MUST HOLD THE NECESSARY LICENSING AND COPYRIGHT TITLES. It is assumed by factory that all artwork submitted is being used in full compliance with all applicable laws regarding its usage. Customer agrees to assume any liability resulting from claims against us for service marks, infringements of trademarks, copyrights, patents and personal rights. Customers will assume complete responsibility to obtain permission for reproduction of logos, trademarks, patents & copyrights. By agreeing to print any submitted artwork, Media INK will not be held liable under any circumstances.